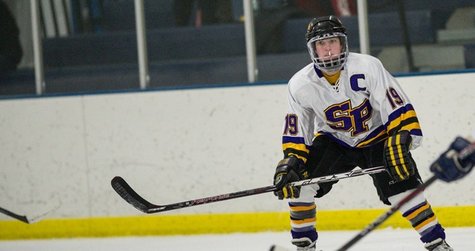 ADRIAN, MI (UWSP) - The
UW-Stevens Point women's hockey team couldn't hold onto an early 2-0 lead
as it dropped a conference matchup to Adrian College Friday evening, 6-4.
Box Score
Brooke Hanson
(Maple Grove, MN/Maple Grove) tallied the only first period goal as she scored off the sticks of
Ava Plamondon
(Blackhawk, CO/Nederland) and
Hannah Smith
(Spokane, WA/East Valley). The Pointers took the 2-0 lead midway through the second period as
Emily Lester
(Eau Claire, WI/Memorial) tallied her ninth goal of the year. Adrian responded with two goals in less than two minutes in the second period to knot up the game at 2-2. UWSP responded 30 seconds later as
Michelle Lunneborg
(Richfield, MN/Richfield) and
Hannah Smith
(Spokane, WA/East Valley) teamed up to give the Pointers the lead again. Adrian dominated the third period, scoring four goals to seal the victory.
Nikki Kloes
(Antigo, WI/Antigo) tallied the Pointers only third period goal.
Hillary Drake
(Mosinee, WI/Mosinee) recorded the loss in goal, tallying 22 saves. Brittany Zeches and Allie Carter shared time in the net for Adrian combining for 41 saves. UWSP (10-7-2, 8-4-2 NCHA) and Adrian (15-5, 10-5) will face-off again tomorrow afternoon 2 p.m. EST.