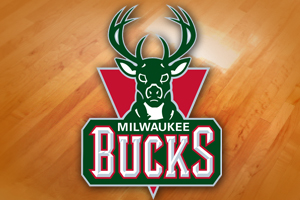 AUBURN HILLS, MICH (WSAU) Brandon Jennings exploded in the third quarter last night, as the Milwaukee Bucks pounded the Detroit Pistons 117-to-90 at Auburn Hills. Jennings scored 20 points in the third period, on his way to a 30-point performance.
The Bucks trailed by nine after the first 12 minutes. But they out-scored Detroit 72-to-40 in the second and third quarters to pull away. Jennings scored 16 straight points in just two-minutes and 20-seconds. That turned a 13-point Milwaukee lead into a 29-point margin.
The Milwaukee bench had plenty of time to shine. Center Samuel Dalembert had 12 points and 10 rebounds. Beno Udrih had a game-high 11 assists. And Mike Dunleavy had 17 points as the second player off the bench. All told, the Milwaukee bench scored 59 points – and coach Jim Boylan called that tremendous.
The Bucks out-shot the Pistons 47-to-40-percent. Andre Drummond led Detroit with 18 off the bench. The Pistons were sloppy with the ball as they committed 21 turnovers to Milwaukee's 10.
Ex-Buck Charlie Villanueva had three of those turnovers while scoring just two points for Detroit, which lost to the Bucks for the first time this season after a pair of wins.
Milwaukee will host the Chicago Bulls tonight.