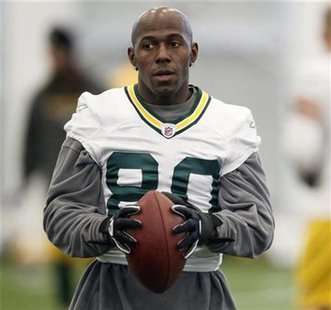 GREEN BAY (WSAU) Donald Driver will retire.
The Green Bay Packers announced that Driver will appear in the Atrium at Lambeau Field on February 6th to announce his retirement. Driver's decision to retire was announced by the Packers earlier today.
Driver posted the following message on his Facebook account: "After 14 years of playing football for the Green Bay Packers, I have decided to retire. I could never have made it this long without the love and support of the fans, which is why I want to share this moment with you all at an official retirement celebration in the Lambeau Field Atrium on February 6th."
Driver is the team's all-time leading receiver and a long-time fan favorite.
Driver retires at the top of the Packers record-book in several categories:
Most receptions (743)
Most receiving yards (10,137)
Most 1,000-yard seasons (seven, a record six of them consecutive from 2004-09)
Most 50-catch seasons (nine, also a consecutive record from 2002-10)
Most consecutive games with a reception (133)
Most receptions at Lambeau Field (363)
Most receiving yards at Lambeau Field (5,000)
Driver saw only limited action this season, and was frequently on the team's inactive list. There had been reports that Driver might consider offers from other teams who wanted him next season, including the Minnesota Vikings.