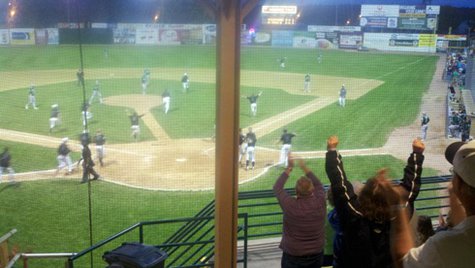 WAUSAU, Wis. (WSAU-Woodchucks) - The Wisconsin Woodchucks used a three-run sixth inning rally this time to sweep Thursday's doubleheader winning the nightcap 5-4.
The Woodchucks took an early advantage as Jake Jefferies would come into score when John Clay Reeves hit a single through the right side of the infield to give the 'Chucks a 1-0 lead. The 'Chucks tacked on an insurance run in the bottom of the fifth inning after Joey Rodriguez hit a fly ball to right-center field deep enough to allow Rob Bennie to come in and score to give the 'Chucks a 2-0 advantage. With the bases loaded, the very first pitch that Bombers' center fielder Matt Goodson would see from Woodchucks' reliever Pascal Paul, Goodson belted it over the right field wall to give the Bombers a 4-2 advantage with just one crack of the bat.
After loading the bases in the bottom of the sixth inning, the Woodchucks rallied and took the lead thanks to a bloop single into right field by Edgar Figueroa would bring home Austin Diemer. After a fielding error by Bombers' right fielder Greg Valezquez, Bennie came into score as well on the play to tie the game up at four. Déjà vu all over again as Rodriguez hits a fly ball to right field deep enough this time scoring Tyler Stieb to give the Woodchucks a 5-4 lead.
Merrill native Pascal Paul would earn the victory as the 'Chucks battled back after he gave up the go-ahead grand slam. Max Ising would load the bases in the bottom of the seventh inning but shut the door on the Bombers as he earned the save.
The Woodchucks and Bombers will be back in action Friday night as they wrap up their three-game series at Athletic Park. First pitch is scheduled for 6:35 p.m. with gates opening at 5:35 p.m.