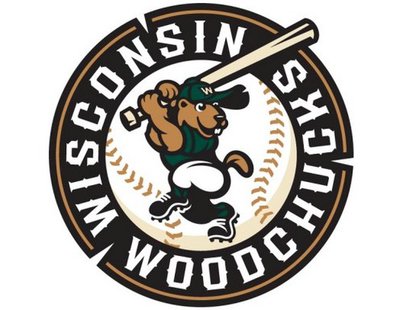 Four runs in the first three innings would be enough for the Wisconsin Woodchucks to defeat the Green Bay Bullfrogs 4-3 in Green Bay, moving the Woodchucks to a 4-2 record in the second half.
The Woodchucks would get on the board early with a run in the top of the first. Garrett Rucker doubled with one out in the frame to extend his season-long hitting streak to eight games. He would score two batters later on a base hit on John Clay Reeves to put the Woodchucks on top 1-0.
Rucker would come through for the Woodchucks again in the next inning. With two outs in the frame and the bases loaded, Rucker bounced a single through the right side to score both Tyler Stieb and Edgar Figueroa. Jake Jefferies would also score on the play as Nick Torres's throw to the plate got by catcher Ryan Matranga for a throwing error, giving the Woodchucks a 4-0 advantage.
The score would remain 4-0 until the bottom of the fifth when the Bullfrogs got on the board for the first time. With Jimmy Coady on first and no outs, Matranga blasted his first home run of the season over the left field wall to cut the deficit to two runs.
The Bullfrogs would cut that lead to a run in the bottom of the sixth, but the Woodchucks were able to minimize the damage. The first three batters would reach in the inning to load the bases with no outs against Woodchuck starter Ryan McCarthy. McCarthy threw a wild pitch to the backstop to score Boomer White from third and make it a 4-3 ballgame. With the tying run on third and the go-ahead run on third, Coady hit a groundball to Josh Goossen-Brown. Goossen-Brown stepped on the first base bag for the first out and then got Torres caught in a rundown between third and home. Torres would eventually be tagged out by McCarthy at home for the second out of the inning as the Woodchucks got out of a jam to keep it a 4-3.
McCarthy would go five and two-thirds innings, allowing only two earned runs on four hits while picking up six strikeouts as he picked up the win and improved to 1-0 on the season.
Aaron Fossas and Jackson Lowery combined to throw three and a third innings of scoreless baseball, recording four strikeouts between the two of them. Fossas had three of those punchouts, and Lowery would pitch the ninth to record his fifth save of the season and eleventh of his Northwoods League career.
The series will head to Wausau tomorrow for the second and final game. First pitch from Athletic Park is scheduled for 6:35 with the gates opening at 5:35. You can hear the game on Fox Sports 1390-AM 93.9-FM.