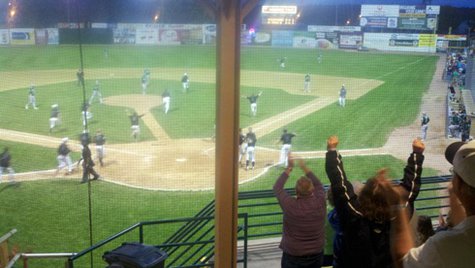 WAUSAU Wis. (WRIG-Woodchucks) -- The Wisconsin Woodchucks fell to the La Crosse Loggers 5-4, thanks to a deciding runs in the top of the ninth inning after the Woodchucks scored three runs in the eighth inning to even the game up.
The Loggers took an early lead as Brandon DeFazio hit an Adam Kramer fastball over the left field wall to give the Loggers a 1-0 advantage. A wild pitch by Loggers' starting pitcher Zack Reser allowed Matt Tellor to score on the play. Tellor leadoff the inning with a double in his first game back after receiving stitches in his leg after Monday night's game. The score would remain tied at one until the top of the eighth inning when Michael Katz hit a towering home run over the left-center field fence that brought home Eric Toole and Mike Nadratowski to give the Logger a late 4-1 lead.
Jake Jefferies hit a homerun of his own to lead off the bottom of the eighth inning to begin the Woodchucks rally in the inning. Brandon Krieg came into score after Josh-Goossen Brown hit a double into the left-center field gap. In the next at-bat, thanks to a wild throw by Loggers' shortstop Brandon DeFazio, Goossen-Brown came into score to even up the game at four.
The Loggers would answer in the top of the ninth inning when DeFazio redeemed himself coming into score when Connor Teykl grounded out to shortstop which would be the deciding run for the Loggers. Brooks Kriske was awarded the win even though he surrendered the three Woodchucks' runs in the eighth inning. The loss was handed to Jackson Lowery as he surrendered his first earned run in over a month. The save was given to Bobby Juan as he shut down the Woodchucks in the ninth inning.
The Woodchucks and Loggers will play game two of their three-game series on Saturday night. First pitch is set for 6:35 p.m. with gates opening at 5:35 p.m. Stick around for Post-Game Fireworks after the game.
Listen to the Woodchucks and Loggers on Fox Sports 1390 AM and 93.9 FM WRIG radio starting at 6:15 p.m.