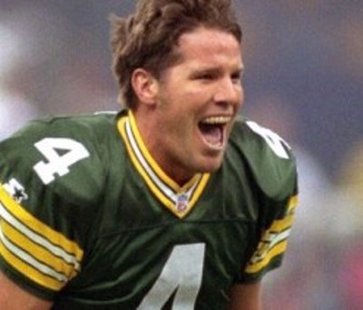 GREEN BAY, Wis (WSAU-Wire) The Packers plan to retire the number of former quarterback Brett Favre, but it isn't likely to be this year. Team president Mark Murphy tells FoxSportsWisconsin that he doesn't anticipate the move during the 2013 season, but it should happen before Favre's Hall of Fame induction in 2016.
Murphy says time has a way of healing wounds and that Favre deserves to have his number-4 retired for what he accomplished as a player and what he meant to the organization.
Meanwhilre, the Packers set new records last year for total revenues, net income, and operating profits. The N-F-L's only publicly-owned team released its financial data yesterday. Operating profits jumped by 26-percent, to $54.3-million for the year ending March 31st. Net income rose by one-percent to $43-million. Total revenues increased two-percent to $308.
Team president Mark Murphy said the increases were due mainly to their success on the field – including their fourth straight playoff appearance, and their second consecutive N-F-C North Division title in 2012. Murphy said the team also benefited from the collective bargaining agreement set two years ago with the players' union.
Player costs for the last fiscal year dropped by $19-million dollars, to $136-million. The Packers expect to take a hit in that department next year after signing Aaron Rodgers and Clay Matthews to mega-contract extensions.
Murphy also expects a louder-and-improved atmosphere at Lambeau Field this season, with 66-hundred additional seats in an overhang in the South End Zone.
Stockholders will review the financial data at their annual meeting a week from today. Training Camp will begin two days later.