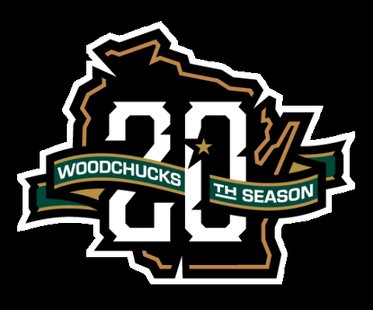 Eau Claire—July 27, 2013—The Wisconsin Woodchucks used four multi-run innings and 16 hits to knock off the Eau Claire Express 18-5.
Every Woodchuck that recorded an at-bat had a hit, four Woodchucks had multiple hits, and six Woodchucks had multiple RBI's. Levi Meyer led the way, going 4-4 with four RBI's, falling just a home run short of the cycle.
Woodchucks starter Dan Weigel did his part, as well, as he completed six innings, allowing only two earned runs with only one walk while improving his record to 4-3 on the year.
The Woodchucks would start the scoring in the top of the first inning. After a Tyler Stieb single started the frame, he would score with two outs on a single by Levi Meyer to put the 'Chucks on top 1-0.
The lead would stay there until the third inning. With two outs and Brandon Krieg on first, the Woodchucks put together a rally. Meyer and Rob Bennie recorded RBI doubles, and a two-run single by John Menken brought home four runs to make it a 5-0 lead for the Woodchucks.
Weigel was able to hold the Express off the board until the bottom of the third. After an error by Edgar Figueroa, the Express would plate two runs on a double by Tim Wise to cut the lead to 5-2. Wise would also score on a single by Greg Harisis to trim the Woodchucks lead to two runs. Two of the three runs were unearned.
The Woodchucks would get those two unearned runs back in the top of the fourth. With runners on second and third and one out, Meyer hit a triple into the right-center field gap to extend the Woodchucks lead to four runs, giving Meyer four RBI's in the game and bringing him a home run short of the cycle.
After the Express added another run in the fifth, the Woodchucks offense broke out again in the sixth. Five runs would cross in the inning. Austin Diemer and Bennie drew bases loaded walks to pick up RBI's, and a two-run double by Edgar Figueroa helped extend the Woodchucks lead to eight runs.
The offense did not let up there, though. The 'Chucks plated six more runs in the seventh inning, highlighted by a two-run triple for Stieb and RBI singles by Garrett Rucker, Diemer, and Figueroa as the 'Chucks extended their lead to 18-4.
The Woodchucks and Express will conclude the three-game series tomorrow in Eau Claire with first pitch scheduled for 6:35. The Woodchucks will be back at home on Sunday to face the Thunder Bay Bordercats with first pitch at 5:05 from Athletic Park.
Lakeshore and Wisconsin Rapids split a doubleheader.