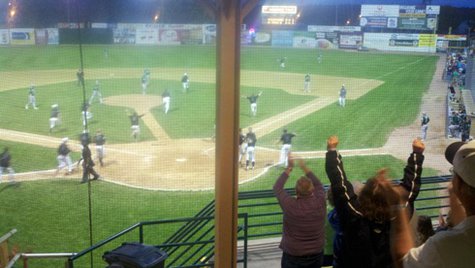 WAUSAU, Wis. (WSAU-Woodchucks) - The Wisconsin Woodchucks' bats would be the difference in Saturday night's game as they would defeat the Eau Claire Express 7-4.
The Woodchucks would take the lead early as they scored twice in the bottom of the first inning. After loading the bases with no outs, Damek Tomscha grounded into a double play but brought home Jake Jefferies on the play. John Clay Reeves then brought home Joey Rodriguez after Reeves singled into right field giving the 'Chucks a 2-0 lead.
In the bottom of the second inning the Woodchucks tacked on two more runs to their lead as Jefferies would bring home Cal State Fullerton teammate Austin Diemer. Rodriguez then brought home Kirby Taylor after Rodriguez would line one up the middle to give the 'Chucks a 4-0 advantage.
The Express got one run in top of the fifth inning David Diaz-Fernandez hit a fly ball just out of the reach of a diving Diemer. Diemer had the presence of mind to get up quickly and throw out Diaz-Fernandez trying to advance to second base which stranded a runner on third limiting the damage for the Woodchucks as they continued to lead 4-1.
The Express rallied to tie the game up in the top of the sixth inning Tim Zier brought in the first run as his single to left field plated Carlos Chavez. A single into the right field gap brought home two Express runners to even the game up at four.
The Woodchucks answered Eau Claire's three run sixth inning with a three run inning of their own. After a hit by pitch and a walk Kirby Taylor sacrificed the runners over thanks to a bunt right down the third base line. Edgar Figueroa then hit a bouncing ground ball that got through with the Express infield playing in that scored two runs on the play. After Figueroa stole second base, Jefferies hit to right field brought Figueroa in to give the 'Chucks a 7-4 lead.
Josh Goossen-Brown came in to relieve Matt Ditman, as Goossen-Brown entered in a jam in that three run sixth inning with runners on first and third. Goossen-Brown needed just one pitch as he got the pitcher friendly double play to get out of the inning. Goossen-Brown was awarded the win. The save went to Max Ising as the tying run came to the plate in the top of the ninth but Ising shut the door on the Express.
The Woodchucks will take on the Eau Claire Express tomorrow night in the game two of the three-game series. The first 500 fans will receive a Woodchucks All Star Ben Zobrist Bobble Head, presented by Rib Mountain Paper. First pitch is scheduled for 5:05 with the gates opening at 4:05.