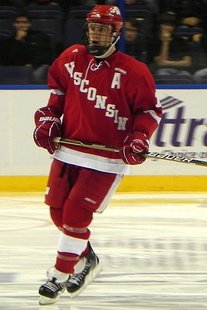 MADISON, WI (WSAU) The Wisconsin men's hockey team will open against Minnesota State on Thursday in the quarter-finals of the W-C-H-A's Final Five in Saint Paul. The winner will face top-seeded Saint Cloud State in the semi-finals on Friday.
The Badgers were given the Number-four seed, after a two-game sweep of Minnesota-Duluth in the opening round of the playoffs this past weekend. Minnesota State has the Number-five seed after eliminating Nebraska-Omaha yesterday, two games to one.
After a slow start, Mike Eaves' Badgers are 18-5-and-5 since November 30th. Wisconsin is in its first W-C-H-A Final Five since 2010. It will be their last before starting a new Big Ten hockey conference this fall.