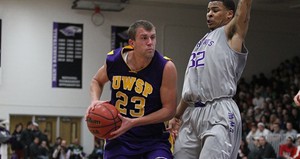 KANSAS CITY, MO. - UW-Stevens Point junior Trevor Hass (New London, WI/New London/Augustana (SD)) has been named to the Second Team All-West District by the National Association of Basketball Coaches.
Hass led the Pointers in scoring with 11.6 points per game and started all 28 games during the 2012-13 season. Hass also led the team with 61 made 3-pointers and averaged a team-high 32.9 minutes per game.
Hass's Wisconsin Intercollegiate Athletic Conference (WIAC) ranks include 11th in scoring, third in made 3-pointers, sixth in 3-point field-goal percentage (39.6 percent), and second in minutes per game.
Hass scored a season-high 25 points in the second game of the season at St. Olaf College while knocking down a season-best six 3-pointers.Hass reached double-digits in scoring 19 times during the season.
Chas Cross of UW-Platteville is the only other WIAC player to be named to the All-West team. Cross was named All-West Player of the Year