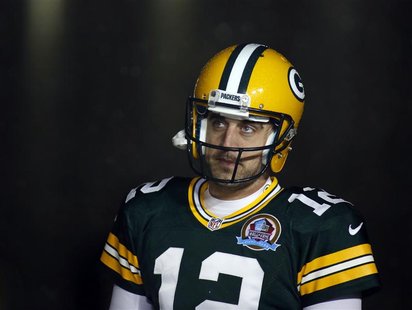 GREEN BAY, WI (WSAU) Packers' president Mark Murphy confirms that his team wants to make Aaron Rodgers the highest-paid player in the N-F-L – and it will probably happen before this fall. Murphy told reporters at the league owners' meeting in Phoenix that it's a priority – but he's not sure exactly where things stand at the moment.
Murphy said the Packers would not have a problem coming up with the needed cash, and he told G-M Ted Thompson and negotiator Russ Ball not to worry about that in their talks with Rodgers' agent.
Media reports say Rodgers could be in line for up to 50-million dollars in guaranteed money, but not all of it would be paid up-front. Rodgers has two years left on a seven-year, 65-million-dollar deal he signed in 2008. He's due to make almost 10-million-dollars this year, much less than other top N-F-L quarterbacks.
Also, Murphy said the Packers appear to be getting closer to having Brett Favre return to the Packer fold and have his Number-Four retired. Favre has said he's not ready to come back. But Murphy said he appears to be closer than ever, after making peace with Rodgers and appearing together at the N-F-L Honors program a month-and-a-half ago.