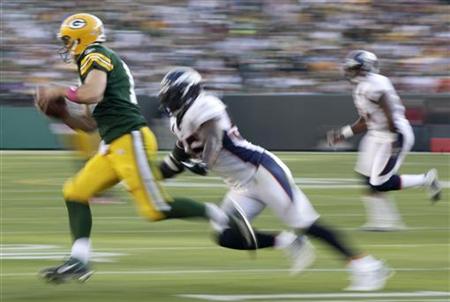 GREEN BAY, WI (WSAU) There's a report that the Green Bay Packers are getting ready to devote up to one-sixth of their future salary caps on quarterback Aaron Rodgers. The Milwaukee Journal Sentinel says the Super Bowl champion and 2011 M-V-P quarterback could be in line to get 110-to-160-million dollars, depending on the length of the deal. And up to 40-million of it could be guaranteed. And the future salary cap hit for Rodgers could get as high as 20-million dollars for one season.
Packers' president Mark Murphy says the team wants to get the deal done this year, even though Rodgers has two years left on a contract that's paying him just under 10-million for this year. The Journal Sentinel said it leaves one agent shaking his head, wondering why the Packers don't wait a year to sign Rodgers – and instead, sign some free agents and make another aggressive Super Bowl run this fall.
But former Packers' contract negotiator Andrew Brandt says the team is wise to seal a new deal for Rodgers now. Brandt signed Brett Favre to a 10-year, 100-million dollar deal with three years left on his previous contract. He said he never wanted Favre to get within "sniffing distance" of free agency.
Favre ended up fulfilling all 10 years of that contract – and he played three more seasons with other teams before finally retiring at the end of 2011.