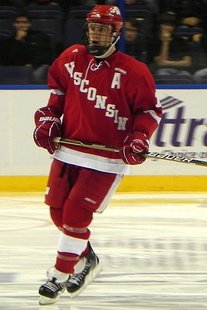 ST. PAUL, MN (WSAU) - Bucky's day wasn't a total loss. The Wisconsin Badgers hockey team defeated St. Cloud State 4-1 Friday afternoon at the Alliant Energy Center in St. Paul, Minnesota.
It wasn't the Badger's best performance, but they hung on to win.
The WCHA's final championship game is set for Saturday night. The Badgers will play in that conference championship for the first time under coach Mike Eaves.
The Badgers need a win against Colorado College or Minnesota Saturday to have their best chance at making the NCAA Hockey Tournament. Those two teams play Friday night at 7:00 p.m. You can listen to the Badgers in the championship game Saturday night on WSAU with pregame coverage starting at 6:30 p.m.
Earlier Friday, the Badger basketball team was eliminated from the NCAA tournament after losing to Ole Miss at Kansas City, Missouri.