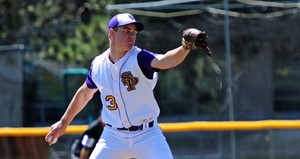 AUBURNDALE, FL (UWSP) – In its second day of action in Florida, the UW-Stevens Point baseball team split a doubleheader with St. Thomas. The Tommies won the first game 9-7, and the Pointers came away with a 3-2 win in extra innings in the second game.
UWSP trailed 9-4 entering the seventh and final inning of the first game, but the Pointers' first two batters reached base when Jimmy Coady (La Crosse, WI/Aquinas) (3-for-3, 2R, 2RBI) led off the inning with a walk and Harry Steldt (West Bend, WI/West) (0-for-3) reached base when he was hit by a pitch. Casey Barnes (Mequon, WI/Homestead) (2-for-4, R, 2RBI) hit an RBI single and Bryton Guckenberg (Trego, MT/Lincoln County) (2-for-4, 3RBI) smacked a two-RBI double, but the Pointers came up short in their late rally.
The Pointers and Tommies were tied 2-2 through seven innings of the second game when Guckenberg (1-for-3, R, RBI) led off the top of the eighth inning with a double and Brandon Kranz(Waukesha, WI/West) (2-for-3, RBI) followed with what stood to be the game-winning RBI single. Brad Stroik (Stevens Point, WI/SPASH) earned the win for UWSP after tossing three scoreless innings out of the bullpen while allowing just one hit.
The Pointers continue their stay in Florida with an 11 a.m. game against Southern Maine on Sunday.