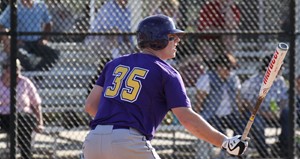 AUBURNDALE, FL (UWSP) - The UW-Stevens Point baseball team's offense posted double-digit runs for the third consecutive game and the pitching staff recorded its first shutout of the season as the Pointers topped Elmhurst College 13-0 Tuesday afternoon.
The Pointers (7-2) carried a 1-0 lead into the bottom of the third inning when Sean Gerber (Stoughton, WI/Stoughton) led off the frame by taking a four-pitch walk. Geber then stole second and
Jimmy Coady (La Crosse, WI/Aquinas) moved him to third.UWSP loaded the bases when its next two batters, Riley Spetz(Sevastopol, WI/Sevastopol) and Casey Barnes (Mequon, WI/Homestead), were each hit by a pitch.Brandon Kranz (Waukesha, WI/West) smacked an RBI single to score Gerber, and Bryton Guckenberg (Trego, MT/Lincoln County)followed with a sacrifice fly to score Spetz and give UWSP a 3-0 lead.
Bobby Gregorich (Plover, WI/SPASH) then stepped in with runners in scoring position. Gregorich put the ball in play, but the Elmhurst shortstop misplayed the ball, allowing Barnes and Kranz to score on the error.UWSP added five more runs in the seventh inning to increase its lead to 11-0.Both Dan Douglas (East Troy, WI/East Troy) and Ryan Schilter (West Bend, WI/West) hit RBI singles in the seventh and Gerber belted a two-run double in the inning.
UWSP starting pitcher Max Frederick (New London, WI/New London) earned the win after allowing only six hits and striking out five through seven scoreless innings. Zach Wendorf (Merrill, WI/Merrill) pitched two scoreless innings out of the bullpen.
Douglas led the Pointers by gathering a hit in all four at-bats while Gerber added a team-high four RBIs.The Pointers finish their stint in Florida with a doubleheader against St. Olaf that begins at 9 a.m. Wednesday.