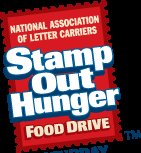 WAUSAU, Wis. (WSAU) – Central Wisconsin residents can help postal workers Stamp Out Hunger with a Saturday food drive.
Acting Wausau postmaster Scott Mayer says it's a really easy way to help those less fortunate in the community. "You can fill up the bag or a paper bag and just leave it out by your mailbox and your mail carrier will make sure it gets to the proper place."
Mayer says they'll take anything that is shelf stable and that you'd normally donate to a food pantry. "Canned food canned meals, boxed food items, things that have long expiration dates."
A summer collection is important because two groups of people start to feel need this time of year, kids and the elderly. Many students on reduced or free lunch programs at school will now be going without those at home, and parents will have a rougher time feeding their children. The elderly also often have a harder time with the lull after the holiday season when food donations run a little slower.
Wausau has gathered around 70,000 pounds of food over the last several years through the program.