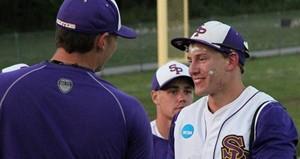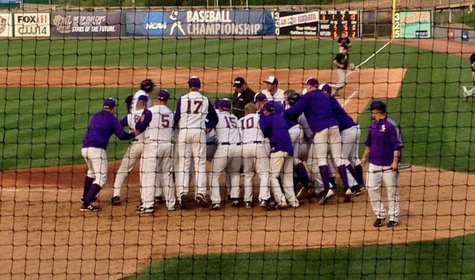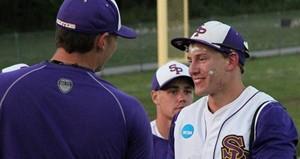 APPLETON, WI . (UWSP) – Bryton Guckenberg (Trego, MT/Lincoln County) belted a walk-off home run with two outs in the bottom of the 10th inning to give the UW-Stevens Point baseball team a 6-5 win over Manchester University (Ind.) in the opening game of the Division III World Series Friday evening.
The Pointers trailed 5-0 entering the bottom of the eighth inning, but Sean Gerber (Stoughton, WI/Stoughton) led off the frame by getting hit by a pitch and Jimmy Coady (La Crosse, WI/Aquinas) put UWSP on the board with an RBI triple.
Casey Barnes (Mequon, WI/Homestead) followed with an RBI single to cut the deficit to 5-2, Riley Spetz (Sevastopol, WI/Sevastopol) doubled to advance Barnes to third, and Guckenberg grounded out allowing Barnes to score.Tyler Flood (Madison, WI/La Follette) held the Spartans scoreless in the ninth inning, and Dan Douglas (East Troy, WI/East Troy)led off the home half of the ninth with a walk and scored on a triple by Gerber.
Coady then hit a fly ball to centerfield as Gerber tagged up and beat the throw to the plate, tying the game 5-5.Flood worked out of a bases loaded jam in the 10th inning, and Guckenberg drilled a 3-1 offering with two outs over the left field wall to give UWSP the win.
The Pointers will play either Kean University or Webster University on Saturday, May 25 at 7:45 p.m.
The NCAA web site has brackets and a live webcast available, along with other information.