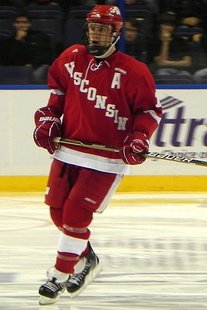 MADISON, WI (LEARFIELD-WSAU) After having last weekend off, the Wisconsin men's hockey team will host Lake Superior State tonight and tomorrow night. The Badgers are 2-and-2 overall, and they're ranked 13th by U-S College Hockey Online.
Lake Superior State comes in at 4-and-0, with a Number-12 ranking. The Lakers were also off last weekend. They did play an exhibition game on Tuesday, and defeated Laurentian of Canada 9-to-2.
Wisconsin sophomore Nic Kerdiles comes in with a 16-game scoring streak. Badgers' coach Mike Eaves has the school record of 21 consecutive games with at least one point. That came in 1977-and-'78. Kerdiles' streak dates back to February 24th. He's had eight goals and 16 assists during that stretch.
In women's hockey, the second-ranked Badgers will host Ohio State tomorrow and Sunday afternoons. Wisconsin has a four-game winning streak, after sweeping Lindenwood of Missouri last weekend.