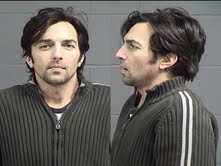 RHINELANDER, Wis. (WSAU) -- As expected, Rhinelander's Board of Education has fired a high school English teacher that is in trouble with the law. On a vote of 6-0 with one abstention, the board terminated Joshua Juergens $44,500 annual contract at their Monday meeting.
Juergens has been charged with felonies for theft and for growing marijuana in his home. He is believed to have stolen over $9,000 worth of computers and equipment from the Rhinelander schools. Police believe he has some computer equipment that belongs to other victims, too.
School officials do not believe Juergens involved the students in any way when committing his crimes.
Juergens remains in the Oneida County Jail, unable to post a $1,500 cash bond.
The former teacher has a lengthy list of drivers license suspensions and some past drug charges, plus a small claims judgement against him for $10,143.
Juergens will be back in court Oneida County Court Thursday at 11:00 a.m. for his preliminary hearing on the theft and drug charges.