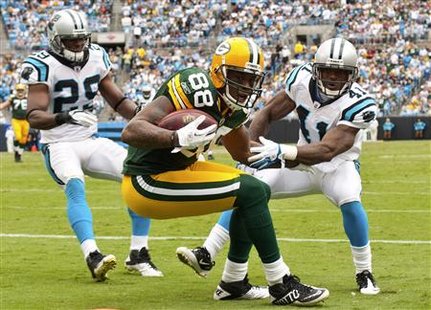 GREEN BAY, WI (LEARFIELD-WSAU) There no clear word this morning on how Green Bay Packers' tight end Jermichael Finley is doing, after he suffered a brutal neck injury in yesterday's home win over Cleveland.
N-F-L-Dot-Com's Ian Rapoport said Finley spent the night at a hospital as a precaution, and he'll be just fine. E-S-P-N's Chris Mortenson tweeted Finley was in an intensive care unit, and did not have surgery as of this morning.
The Packers said last night that Finley had full feeling and movement in all his extremities, after his helmet got pounded by the shoulder pad of Cleveland corner Tashaun Gipson. It happened after Finley caught at 10-yard pass with 10:31 left in the fourth quarter. Gipson was flagged for a helmet-to-helmet hit -- but replays showed that the defender hit the receiver with his shoulder. N-F-L-Dot-Com said it was a clean hit.
Finley stayed down on the field for several minutes before being carted off on a stretcher. Some Packers admitted to crying while Finley was on the ground. Tight end Jake Stoneburner, who was just promoted from the Green Bay practice squad, said he couldn't help but think was going through the minds of Finley's family. Receiver Jordy Nelson said Finley must think about himself first as he recuperates.
Finley suffered a concussion a few weeks ago, and was having a great season in the final year of his Packers' contract. In the win over the Browns, Finley caught all five passes that Aaron Rodgers threw to him. He had 72 receiving yards and a touchdown.