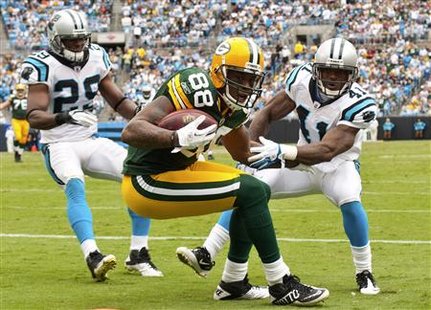 GREEN BAY, Wis. (WSAU) - There is some good news from Green Bay on injured receiver Jermichael Finley.
Coach Mike McCarthy told Packers.com writer Mike Spofford late Monday afternoon that there is timeline & prognosis yet on the neck injury, but that Finley is "up and performing daily activities." The coach also told Packers.com that Finley is in good spirits, very upbeat, very positive, and is focused on what's most important, which includes his health and his family.
McCarthy said Finley's injury is "significant" and told Spofford, "This is something that needs to be seen by more than one doctor."
Finley went down in the 4th quarter of Sunday's game against Cleveland after colliding with a defender and then driving his head into the ground. He was motionless for several minutes after the catch, and was taken away on a stretcher. Finley spent Sunday night in an intensive care unit at a Green Bay hospital, where doctors paid close attention to his signs and symptoms.
Coach McCarthy says it's too soon to know what's next for Finley.