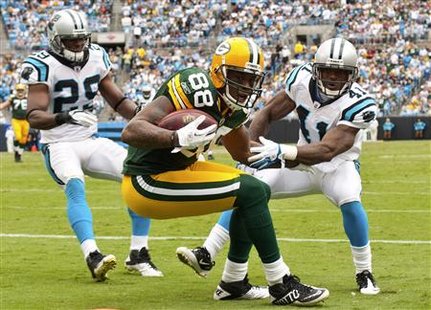 GREEN BAY, Wis (WSAU-Wheeler News) Green Bay Packers' tight end Jermichael Finley was still hospitalized this afternoon with the brutal neck injury he suffered in yesterday's home win over Cleveland. Coach Mike McCarthy told reporters at his afternoon news conference that it would be premature to comment on the exact nature of the injury, and how it would affect Finley's football future.
The coach said Finley was upset when the two met in the hospital last night after Finley caught a 10-yard pass and was hit in the helmet by a hard-charging shoulder from Browns' corner Tashaun Gipson. He also said that Finley was alert and was able to move.
U-S-A Today said Finley is not expected to need surgery -- but might be a few weeks before the Packers know when, or if, Finley can play football again. Earlier today, NFL-Dot-Com said Finley's hospitalization was precautionary, and he'll be fine. ESPN said Finley was in intensive care this morning.