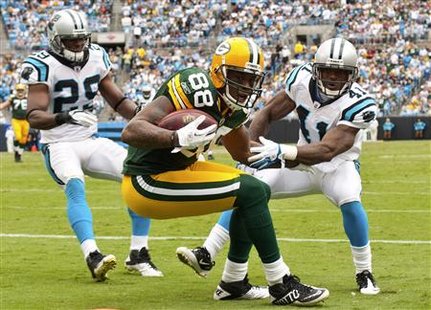 GREEN BAY, WI (LEARFIELD-WSAU) Green Bay Packers' tight end Jermichael Finley was released from the hospital yesterday, uncertain about his immediate future. C-B-S Sports-Dot-Com says the Packers expect to place Finley on season-ending injury reserve, while an array of doctors review his bruised spinal chord and Finley decides the best course of treatment. Most media reports say surgery does not appear likely, but nothing is set yet.
Finley was injured on a hard hit after a catch in last Sunday's Green Bay home victory over Cleveland. Fourth-year pro Andrew Quarless will take Finley's starting tight end spot, with help from rookies Brandon Bostick and Jake Stoneburner.
Meanwhile, running back James Starks is expected to give Eddie Lacy some extra relief during Sunday night's Packer game at Minnesota. Starks missed three-plus games with a knee injury. He has fully participated at practice this week.
Lacy has averaged 25 touches a game for past three weeks. Running backs' coach Alex Van Pelt says he wants to bring that down to 15-to-18 touches, to keep Lacy fresh.
Receiver James Jones did not practice again yesterday with his lingering knee injury. He has not been ruled yet for Sunday night's contest.