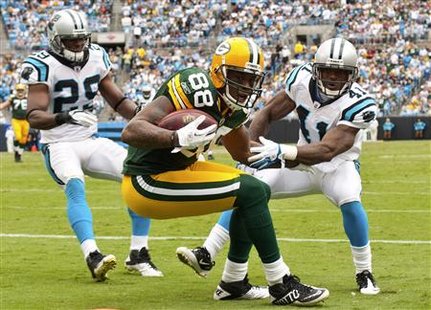 GREEN BAY, WI (LEARFIELD-WSAU) Green Bay Packers' tight end Jermichael Finley wondered if God was punishing him during the first moments after his devastating neck injury 10 days ago. Finley gave an account of his ordeal in Sports Illustrated's "Monday Morning Quarterback."
His neck was jarred by a shoulder from Cleveland defender Tashaun Gipson, as Finley fell to the Lambeau Field turf for six minutes before being removed a stretcher. He spent parts of five days in a hospital with a bruised spinal cord.
The hit came while he was running after a catch. He said it unfolded very quickly. Finley said he saw Gipson from a corner of his eye, and he lowered his head and shoulders to protect his knees. He said he remained conscious but could not move. Finley said the scariest thing was seeing fear in the eyes of teammate Andrew Quarless as he stood nearby. That told him something was really wrong.
As he was being hauled off, Finley wanted to show the fans he was okay by giving a thumbs-up - but his arm couldn't move after it went up halfway. Finley wants to play again, but he's not sure if it will happen this season.
If he never plays again, he said he has a 10-million insurance policy that will help his family be financially-secure for life. The 5-and-2 Packers are getting ready to play Chicago on Monday night.