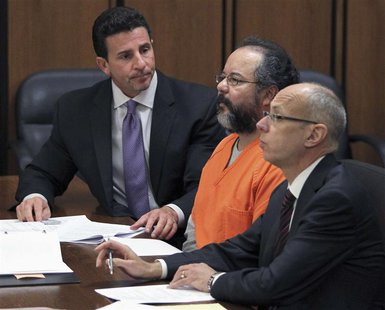 CLEVELAND, OH (FOX NEWS) - Ariel Castro, the man convicted earlier this year of kidnapping three woman, holding them in his Cleveland home for nearly a decade, and repeatedly sexually assaulting them, committed suicide in his Ohio jail cell Tuesday night, according to an Ohio corrections official. Fox News reports that a statement from the Ohio Department of Corrections said Castro, 52, was found hanging in his cell at the Correctional Reception Center in the town of Orient at 9:20 p.m. local time.
After prison medical staff attempted to perform life-saving measures, Castro was transferred to The Ohio State University Wexner Medical Center in Columbus, where he was pronounced dead at 10:52 p.m.
Castro, a former bus driver, was sentenced to life in prison plus 1,000 years on August 1 for kidnapping and sexually assaulting Amanda Berry, Michelle Knight, and Gina DeJesus while holding them captive in his house. He even fathered a daughter with Berry, but was barred from seeing the child as a consequence of his sentence.
The three women, were kidnapped between 2002 and 2004. DeJesus was 14 at the time of her abduction, while Berry was 16 and Knight was 20 years old. They escaped May 6, when one of the women broke down part of a door and yelled to neighbors for help. Castro was arrested that evening.
Castro's death is being investigated by the Ohio State Police and the Department of Corrections. According to the statement from the latter, Castro was being kept in protective custody, isolated from other inmates due to his high profile, and was subject to checks every 30 minutes. He was in the cell by himself when he was found.