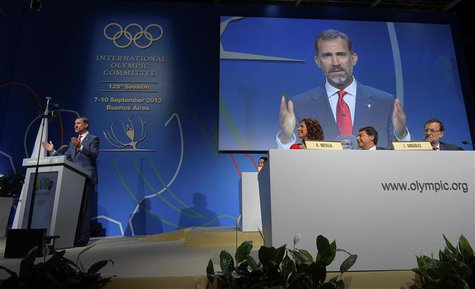 By Julian Linden
BUENOS AIRES (Reuters) - Madrid assured the International Olympic Committee (IOC) on Saturday that it could afford to stage the 2020 Olympics if chosen as the host city, allaying fears that Spain's economic crisis made it a risky proposition.
The Madrid bid team, which included Spanish royalty, politicians and top athletes, delivered a heartfelt 45-minute presentation to IOC members just a few hours before they vote to decide the winner.
Madrid has long been regarded as the outsider in the three-horse race that includes Tokyo and Istanbul because of the state of the Spanish economy, but Prime Minister Mariano Rajoy told the IOC that money was not a problem because most of the facilities were already built.
"Madrid 2020 has perhaps the most reasonable and responsible financial foundation in recent Olympic history. Eighty percent of the necessary investment has already been undertaken, and what little remains is fully guaranteed by the Government of Spain," Rajoy said.
"We can host the Olympics in 2020 with no risk to the Olympic Movement."
Spain's Crown Prince Felipe also addressed the economy in his speech, telling the IOC the Games were an investment Spain was only too happy to make.
"Some people have begun to question the cost of hosting larger events in times of economic uncertainty but I don't see it as a threat, I see it as an opportunity," he said.
"We need this now as we need it for the generations to follow."
Madrid is bidding for the Olympics for the third time in a row after missing out to London for 2012, and then Rio de Janeiro for 2016, but believe this is their best chance.
The centerpiece of their presentation was a polished broadcast, that featured Placido Domingo, Antonio Banderas, Alejandro Sanz and Rafa Nadal.
Spanish IOC member Juan Antonio Samaranch appealed to the IOC members by quoting his late father, with the same name, who served as IOC president from 1980 to 2001, during a rousing plea.
"We've been preparing for years," Samaranch said.
"Madrid wants the Games, Madrid needs the Games and Madrid makes sense, now more than ever."
Madrid was the final city to present their bid to the IOC at the Congress in Buenos Aires, following Istanbul then Tokyo. The IOC members were to vote on the host city later on Saturday.
(Additional reporting by Karolos Grohmann and Rex Gowar; editing by Justin Palmer)