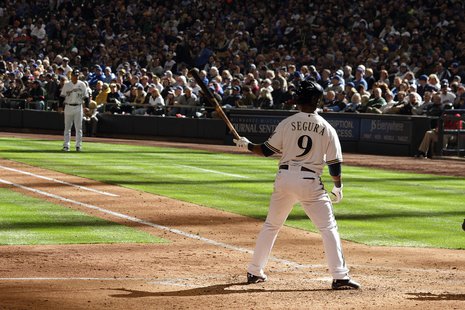 ST. LOUIS, MO (LEARFIELD-WSAU) Brewers' shortstop Jean Segura played last night for the first time since Ryan Braun accidentally hit him in the head with a bat in the dugout last Saturday. Segura was a pinch-hitter in the ninth inning of the Crew's 11-inning win at Saint Louis. He was thrown out while trying to bunt his way on base.
Segura said he felt a lot better yesterday. He said the swelling under his right eye went down a lot, his vision is fine, and it doesn't hurt much anymore. Still, Segura must pass more on-field tests before he can start. Brewers' manager Ron Roenicke said he hoped Segura could start today -- but the player said it might be another day or two.
There's nothing new on the progress of injured starters Braun and Aramis Ramirez. Braun's getting over a strained oblique muscle. Ramirez bruised an elbow when he was hit by a pitch on Monday night, and he hopes to return this afternoon.