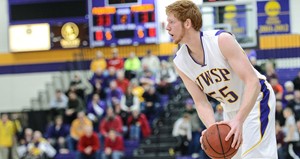 STEVENS POINT, Wis. (WSAU-Pointer Sports) -- The UW-Stevens Point men's basketball team held the line on defense and won their lowest scoring game of the season, 54-50, over UW-River Falls.
The Pointers trailed the Falcons for most of the game, but came back to hold the line in the final 4 minutes of the game, holding River Falls scoreless while they managed to break ahead with just 6 points.
The win puts the Pointers in the running for the WIAC championship. They only need one more win in their last two games or a loss from UW-Whitewater to clinch the title.
UW-Stevens Point will try to clinch that win this week as they travel to UW-Oshkosh on Wednesday night.