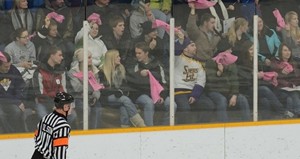 STEVENS POINT, Wis. (WSAU-Pointer Sports) -- Junior Garrett Ladd scored the winning goal in overtime Saturday night to push the UW-Stevens Point men's hockey team to a 2-1 victory over UW-Eau Claire.
The goal was Ladd's 18th of the season and came with 2:26 left in the overtime period. This is the Pointer's third win of the season over Eau Claire. They are currently having their best season since 2002.
Eau Claire's only goal of the night came off a power play, they were 1 of 5 on the night. The pointers were unable to convert any of their 3 chances.
The Pointers will be back in action Thursday night at home against UW-River Falls.