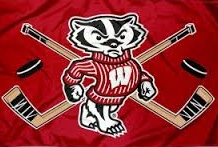 MADISON, Wis. (WSAU) -- The Wisconsin Badgers picked up a win on home ice against Michigan State Friday evening 5-2.
The scoring began during a Wisconsin power play, but it was Michigan State that got the goal at 6:52 by Lee Reimer. The Badgers tied it up 1-1 just two-and-a-half minutes later during another Wisconsin power play with Michael Mersch's 17th goal of the year. Nic Kerdiles and Jake McCabe got credit for the assist.
In the second period, a slashing penalty against Michigan State's Matt DeBlau put Wisconsin back in the power play and Michael Mersch capitalized again. The Badgers then went up 3-1 with a few seconds left in the second period with a goal by Matt Zengerle, his 7th this year.
Michigan State closed the gap with a goal by Mackenzie MacEachern at 17:52, making it a 4-2 Badger lead, but as the clock ticked away, Michigan State pulled Jake Hildebrand out of the goal for an extra attacker. It didn't help the Spartans as Wisconsin's Nick Kerdelius put the biscuit in the empty basket at 18:14 making it a 5-2 Badger lead and putting it out of reach for Michigan State.
Wisconsin junior Joel Rumpel is now 15-4-1 in goal for the Badgers. The team is 18-9-2 overall, 9-5-1 in the Big Ten, and just four points out of first place behind Minnesota. The Kohl Center had solid attendance with 10,616 fans on hand, and the Saturday afternoon home finale is sold out.
You can listen to the Saturday action beginning with pre-game activities at 3:30 p.m. on WSAU AM 550 FM99.9, after the Badgers vs. Iowa Hawkeyes basketball game.