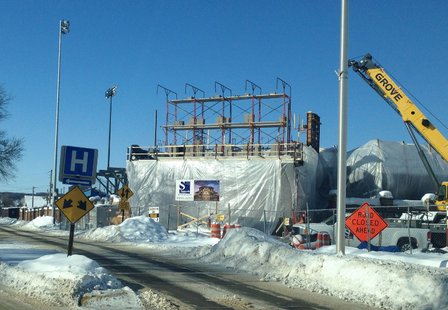 WAUSAU, Wis. (Woodchucks PR) -- The Wisconsin Woodchucks are about halfway through a major renovation of Athletic Park. On the field Woodchucks are adding more seats behind home plate to provide a new fan experience.
Fans will also see new and upgraded concession, seating, open – air breezeway that will allow direct views from the concourse to the field and a new team store. Fans will also see new third level to the stadium that will feature three new climate controlled luxury suites.
The renovation project has been a challenge this offseason with the below normal temperatures. Most of the stadium has been covered and heated in order to pour concrete. "The Samuels Group has done a good job of keeping us on schedule", said Woodchucks General Manager Ryan Treu. " We originally built the schedule with some buffer days in it, just in case we had a winter like this. The project is still set to finished in mid April."
The Woodchucks will be soon announcing some events in May before Opening Day on May 30th to allow the public to get an early look at the stadium. We are excited for the community to see the all the improvements," Treu said.
The Wisconsin Woodchucks are a member of the finest developmental league for elite college baseball players, the Northwoods League. The Northwoods League is the largest organized baseball league in the world with 18 teams, drawing significantly more fans, in a friendly ballpark experience, than any league of its kind.