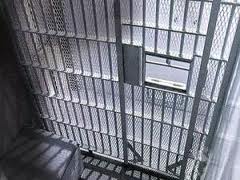 STEVENS POINT, Wis (WSAU) - An inmate was found dead in the Portage County jail on Sunday night.
The Portage County sheriffs department issued a news release saying the inmate hung himself in his cell. Jail staff discovered the man during a routine safety check around 11:30pm, and tried unsuccessfully to revive him. Portage county paramedics were called to the jail. He was pronounced dead at the scene.
Chief Deputy Dan Kontos said this inmate had entered a guilty plea to murdering a Plover woman less than two weeks ago, and was to be sentenced in September. That narrows it down to one person, but we are withholding the name until they can locate his family, and many of them live in Mexico. The inmate left a note, but the contents of that note have not been disclosed.
The death will be investigated by the Stevens Point PD, with the assistance of the Portage County coroners office.