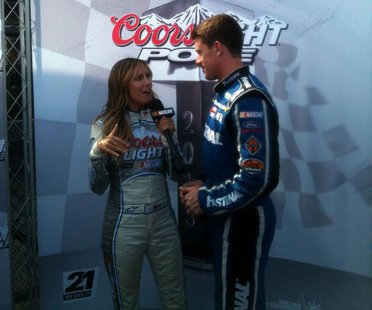 UNDATED (WSAU-TSN) Carl Edwards will not be a part of Roush Fenway Racing's driver lineup for the 2015 Sprint Cup Series season.
Roush Fenway revealed on Sunday its Sprint Cup driver lineup for next year, which includes Greg Biffle, Ricky Stenhouse Jr. and Trevor Bayne, who is a full-time competitor in the Nationwide Series this season. The team noted that "Edwards will not be with the team for the 2015 season."
Edwards has driven for the racing organization since 2003. All 357 of his career starts in the Cup Series, including Sunday's Brickyard 400 at Indianapolis Motor Speedway, have been as driver of the No. 99 Ford for the team. Edwards made his Sprint Cup debut on Aug. 22, 2004 at Michigan. He competed in the Camping World Truck Series full time for Roush from 2003-04.
"I will always be thankful for Carl's contribution and the role he played in many Roush Fenway wins and championships," team co-owner Jack Roush said. "We wish him well for the future. In the meantime, we are excited about continuing our quest for a championship with Carl and the No. 99 team in 2014."
Roush Fenway will not replace Edwards for next season. His departure from the team at the end of this year does not come as a surprise. There had been months of speculation that Edwards would leave Roush Fenway. It is widely rumored that he will join Joe Gibbs Racing next year.
Edwards has scored 23 career wins in NASCAR's premier series, including two this season (Bristol and Sonoma). He is currently sixth in the point standings and is expected to make this year's Chase for the Sprint Cup championship. Edwards has finished second in points twice in his Cup career -- 2008 and 2011. He lost the '11 championship on a tiebreaker to Tony Stewart.
"Right now, we need to win this championship and this race, the Brickyard 400, and that is the mission," Edwards said on Sunday morning at Indy. "I drive for Jack Roush. I drive the No. 99 Fastenal [team sponsor] Ford. And that's what I do right now.
"From a housekeeping standpoint, obviously Roush Fenway has to announce what they're going to do next year. I'll soon announce what I'm going to be doing next year. But I just want to be real clear that the focus is to win the championship this year."
Edwards won 38 Nationwide races and captured the championship in that series in 2007 with Roush. He also notched six wins in the Truck Series.