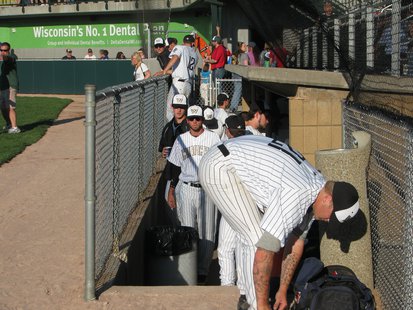 WAUSAU, Wis (Woodchucks-WSAU) The Wisconsin Woodchucks took advantage of two key Madison Mallards' errors to sweep the weekend series as they won, 5-3.
The Mallards (3-3) scored right away in their first at-bats when Brian Rodemoyer hit a grounder to third that took a bad hop when Woodchucks' first baseman Brendon Hayden tried fielding the ball that allowed Logan Regnier to come into score.
The Mallards added another run in the top of the second inning when Robbie Tenerowicz came in to score on a single from Mallards' shortstop Adam Walton giving the Mallards a 2-0 lead.
The Woodchucks (2-4) would answer with two runs of their own in the bottom of the third inning, the first coming when Merrill native Adam Cordova scored on a wild pitch by Mallards' pitcher Rob McDonnell. The tying run came in when Brendon Hayden drove a pitch up the middle to bring in Ryan Donovan to tie the game at two.
The game remained tied until the bottom of the fifth inning when Donovan hit a no-doubt home run to give the Woodchucks a 3-2 lead. The Woodchucks tacked on two more runs in the inning thanks to a pair of Mallards' errors. The first came when Paul DeJong hit a fly ball to right field that Mallards' right fielder Nate Ricci dropped, bringing home Marathon native Cody Hanke from third. The second run came in to score when Hayden hit a grounder to short that was too hot to handle for Walton, allowing DeJong to score and giving the Woodchucks a 5-2 lead.
The Mallards got a run back when Rodemoyer hit a no-doubt home run of his own, cutting the lead to 5-3.
The Mallards had a chance in the top of the eighth inning as they loaded the bases, but Max Ising would come in in the eighth and shut the door, recording the four-out save.
The Woodchucks will travel to La Crosse tomorrow to take on the Loggers for a two-game series. The Woodchucks next home game will be Friday, June 6 as the Battle Creek Bombers come to Athletic Park.
- See more at: http://northwoodsleague.com/wisconsin-woodchucks/2014/06/02/woodchucks-benefit-from-mallards-mistakes-win-5-3/#sthash.s5nu1U4N.dpuf