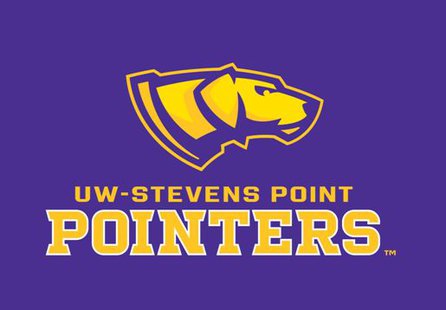 STEVENS POINT, WI (WSAU-UWSP) UW-Stevens Point plays host to Marian University, St. Olaf College and Central College in the first and second rounds of the 2014 NCAA DIII Men's Basketball Championship on Friday, March 7 and Saturday, March 8 at Bennett Court at Quandt Fieldhouse. The Oles and Dutch meet in the first round at 5 p.m. on Friday, followed by the Pointers and Sabres at 8 p.m. The winners then play on Saturday night at 7 p.m.
Tournament Bracket
UW-Stevens Point
How They Got Here: UW-Stevens Point (26-1), the top-ranked team in the country for the last 10 weeks, earned its eighth consecutive NCAA Tournament berth by winning the Wisconsin Intercollegiate Athletic Conference (WIAC) Tournament title by defeating second-ranked UW-Whitewater 74-57 on Sunday afternoon. As the top seed in the WIAC Tournament, UW-Stevens Point received a first-round bye before defeating UW-Platteville 66-47 in the semifinals. The Pointers also won the WIAC regular season crown with a 15-1 league record, with their only loss coming at UW-Whitewater in overtime. Key Players/Stats: Senior guard
Tyler Tillema
(Randolph, WI/Randolph) leads the Pointers in scoring (20.3 ppg), rebounding (5.2 ppg), assists (3.8 apg) and blocks (23). Senior
Trevor Hass
(New London, WI/New London/Augustana (SD)) was third in the WIAC in scoring (17.4) and ranks fourth in the country by shooting 47.7 percent from three-point range. Both Tillema and Hass surpassed the 1,000-point mark in their UWSP careers this season. Center
Clayton Heuer
(Wisconsin Rapids, WI/Lincoln/UW-Green Bay) averages 9.1 points and 4.6 rebounds per game, while
Joe Ritchay
(Wisconsin Rapids, WI/Lincoln) contributes 7.9 points a game off the bench. The Pointers rank in the top seven nationally in field-goal percentage (third, 52.7), three-point field-goal percentage (fifth, 41.9), turnovers per game (fifth, 9.6), scoring margin (sixth, +16.3) and scoring defense (seventh, 58.9 ppg). Other Notes: - This season marked the eighth-straight season that UWSP has recorded at least 20 wins and 12 WIAC victories...The Pointers have won a WIAC-best 28 regular season championships and eight WIAC Tournament titles. - UW-Stevens Point has won three national championships (2004, 2005, 2010). - The 2010 national title made UW-Stevens Point the third school to win three or more national championships. - The Pointers have made 12 NCAA Tournament appearances, including eight in a row and 10 of the last 11…UWSP is 28-9 all-time in the NCAA Tournament. - UW-Stevens Point is 13-0 all-time against Marian and 3-0 vs. St. Olaf…The Pointers defeated the Oles 88-66 at home on Nov. 27...UWSP has never played Central. - UWSP is a perfect 14-0 at home this season and holds a 229-32 (.877) all-time record at Quandt Fieldhouse. The Pointers are 10-3 at home in the NCAA Tournament. - Current WIAC teams are 104-42 all-time in the NCAA Tournament, including 35-16 in the last 10 seasons, and have won four of the last 11 national championships. - This season, ninth-year head coach
Bob Semling
became the winningest coach in program history by recording his 201st career victory at UW-Superior on Jan. 11…Semling has compiled a 213-48 (.816) overall record at UWSP, including a 119-25 (.826) mark in WIAC games…The Pointers have won three national championships with Semling, who was the 2010 D3hoops.com Coach of the year, on the staff, two as an assistant and one as a head coach.
Marian University
How They Got Here: Marian (22-6) won the Northern Athletics Collegiate Conference (NACC) Tournament by defeating seventh-seeded Edgewood 65-61 in the championship game to earn an automatic NCAA Tournament bid, their second-ever berth in the national tournament. The Sabres topped Wisconsin Lutheran 83-63 in the NACC Quarterfinals and Aurora 71-51 in the semifinals. Marian also made the NCAA Tournament in 2001 when Carthage defeated the Sabres 83-65 in the first round. The Sabres also won the NACC regular season title with a 17-3 conference record. Key Players/Stats: Senior forward Cody Veleke was selected as a First Team All-NACC performer after shooting 54.0 percent from the field and averaging 12.8 points and 4.6 rebounds a game. Senior guards Jeff Harris (10.1 ppg) and Sam Koslowski (12.9 ppg) both shot over 41 percent from behind the arc and were named second team all-conference. Freshman Josh Creed (8.4 ppg, 3.7 rpg) was named to the all-freshman team. Seven players average between 7.6 and 12.9 points a game for the Sabers balanced offensive attack. Marian ranked 12th nationally in assists (457) this season. Other Notes: - Current NACC teams are 4-24 in the NCAA Tournament and 1-8 in last 10 seasons. - Marian is 0-13 all-time against UW-Stevens Point, its first round opponent, dating back to 1982...The Sabres have never played St. Olaf or Central. - Marian's 26th-year head coach Mark Boyle was named the NACC Coach of the Year this season for the fifth time and is the longest-tenured and winningest coach in school history with 324 wins...Boyle set a career-high with 22 victories this season. - Marian has gone 21-3 over its last 24 games, including six straight victories entering Friday's NCAA Tournament game against UW-Stevens Point. The last time Marian met UWSP was back on Jan. 6, 2005 in Fond du Lac. The Pointers, also ranked #1 in the nation at the time, won the game, 82-57. - The Sabres opened the 2013-14 season with an exhibition contest at UW-Milwaukee on Oct. 31. They led the Division I Panthers up until just under eight minutes left in the first half. - Marian features three seniors who have eclipsed the 1,000-career-point mark this season. Cody Veleke (Dec. 5), Jeff Harris (Dec. 14) and Sam Koslowski (Feb. 15) became the 15th, 16th and 17th members of Marian's prestigious class. - This senior class has seen a remarkable 18-win improvement from the 2010-11 season when they went 4-21 overall. - The 22 wins for Marian is the most since the 1987-88 squad won a school-record 29 games en route to an NAIA District Playoff appearance. That was also the year before head coach Mark Boyle's arrival.