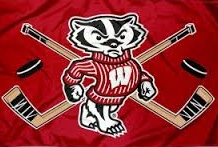 MADISON, WI (LEARFIELD-WSAU) Wisconsin has three of the six players on the inaugural All-Big Ten Conference first team in men's hockey. Senior forwards Mark Zengerle and Michael Mersch, and junior defenseman Jake McCabe were selected by a panel of conference coaches and media.
Junior goal-tender Joel Rumpel made the all-league second team along with two other Badgers -- senior defenseman Frankie Simonelli and sophomore forward Nic Kerdiles (ker-dee'-less).
Adam Wilcox of Minnesota is the Big Ten player-of-the-year and goaltender-of-the-year. Don Lucia of the Gophers is the coach-of-the-year, after he led Minnesota to the inaugural conference regular season crown.
The Badgers finished second. They'll play either Michigan or Penn State on Friday in the semi-finals of the conference tournament in Saint Paul.