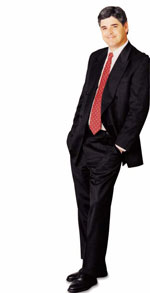 Sean Hannity
Weekdays from 2 - 5pm
Sean Hannity has intelligence, charm and humor that brings Talk radio a fresh new perspective. He is the champion of conservative values and politics. He is a gutsy talk show host that always lands on the right side of the issues. Hannity got his start in commercial radio after drawing attention and enthusiasm from his college radio station.
A station in Huntsville, Alabama took a chance on the brash young voice. The world of talk radio has never been the same.
From that first station in Alabama, Hannity quickly moved to WGST in Atlanta where his strong ratings attracted the attention of WABC New York and the Fox News Channel.
Hannity joined WABC Radio in 1997. After working as a late night host for a year. Hannity moved to the prestigious afternoon slot where he quickly became the #1 show on New York radio's fiercely competitive AM dial.
He is the clear, bold new voice of today's audience.
Listen to Hannity on AM-550 FM-99.9 WSAU weekdays from 2 - 5pm
Listen to The Sean Hannity Encore on AM-550 FM-99.9 WSAU Sundays from noon - 3pm
Call Hannity at 800-941-SEAN (7326) between 2-5pm