« Shows & Personalities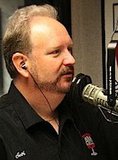 Seth Mela's Radio Buffet
On Air:

Sunday, Noon - 3pm

Host:

Seth Mela
About the Show

Small bite-sized pieces of radio goodness from Seth Mela, the host of the WSAU Wisconsin Morning News and WSAU Feedback. Featuring Tom King, Chris Conley, and the best of the past week's morning show broadcasts.

Show Host

Seth Mela

Hello my friends! Thanks for taking a minute to read my bio…. First of all, I am a second generation Floridian, was born in Lakeland and except for a few years in Montana and Orlando, I've lived there all my life. I know what you're thinking, "HAVE YOU HEARD OF WINTER?". The answer is yes, but I was promised by my boss that the winters are "mild" here in Wausau. I can trust that, right? I graduated from Lakeland High School, and the University of South Florida with a Bachelor's Degree in English Literature.

Usually, when someone has a degree in English Literature, you'd think they'd become a teacher or maybe even go into Law or Politics, right? Yeah, not me. I immediately put my degree to good use and became a financial professional and a licensed Personal Financial Engineer. Oooohhhh, doesn't that sound impressive? I opened the financial consulting firm MELA Professional Services in 1999 and in my spare time, I'm a loving husband, father, and all around really great guy.

I got my start in broadcasting in 2004 when a colleague invited me to be on a financial talk show once a month. That turned into a regular weekly appearance, then into an offer to host my own financial show. Eventually, because I never stopped pestering the station management, I got my own morning show in 2007. Recently, the wonderful people at WSAU offered me the opportunity to become part of the Midwest Communications family. The beautiful area of Wausau and the amazingly friend people won us over right away and we've decided to make this our home. Now, you'll just have to listen every morning to find out what's next!