« Shows & Personalities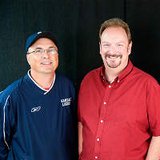 WSAU Feedback
On Air:

Weekdays, 8am - 9am

Hosts:

Seth Mela, Tom King
About the Show

Got something to say about today's news? Central Wisconsin listeners 'gets it off their chest,' with Seth Mela, Tom King, and some of the best local and national newsmakers and guests during WSAU Feedback.

Show Hosts

Seth Mela

Hello my friends! Thanks for taking a minute to read my bio…. First of all, I am a second generation Floridian, was born in Lakeland and except for a few years in Montana and Orlando, I've lived there all my life. I know what you're thinking, "HAVE YOU HEARD OF WINTER?". The answer is yes, but I was promised by my boss that the winters are "mild" here in Wausau. I can trust that, right? I graduated from Lakeland High School, and the University of South Florida with a Bachelor's Degree in English Literature.

Usually, when someone has a degree in English Literature, you'd think they'd become a teacher or maybe even go into Law or Politics, right? Yeah, not me. I immediately put my degree to good use and became a financial professional and a licensed Personal Financial Engineer. Oooohhhh, doesn't that sound impressive? I opened the financial consulting firm MELA Professional Services in 1999 and in my spare time, I'm a loving husband, father, and all around really great guy.

I got my start in broadcasting in 2004 when a colleague invited me to be on a financial talk show once a month. That turned into a regular weekly appearance, then into an offer to host my own financial show. Eventually, because I never stopped pestering the station management, I got my own morning show in 2007. Recently, the wonderful people at WSAU offered me the opportunity to become part of the Midwest Communications family. The beautiful area of Wausau and the amazingly friend people won us over right away and we've decided to make this our home. Now, you'll just have to listen every morning to find out what's next!

Tom King

Tom grew up in Wausau listening to sports on WSAU and music on our sister stations WRIG and WIFC and decided early on that that was where he wanted to be. After graduating from Wausau East in the mid 70's Tom headed to UWSP. He worked at the college radio station WWSP and weekends on WIFC while earning a degree in Communication.

After college he worked a year at WKAU radio in the Fox Valley before returning to Wausau and moving into radio sales. He missed the on-air work and returned to the air when WOFM went on the air and when it was purchased by Midwest Communications was asked to take on the sports position on WSAU. He has spent the last 13 years as part of the WSAU morning team while also broadcasting Wausau East sports and contributing to the morning show on WIFC.

If you listen to the show you know that Tom is the coach of the Wausau American Legion Baseball team. He's married (Sandy) with two sons (Wade & Cory) and spends his spare time reading, listening to music, watching movies and tv shows and following most of the major sports.