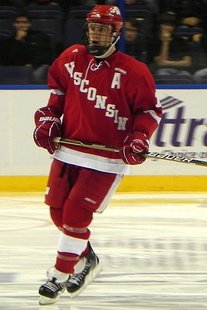 MANKATO, MN (WSAU) The team that started the season so cold is warming up as the temperatures drop. The Wisconsin men's hockey team edge Minnesota State in overtime last night, 4-3. That evens the Badger record in the WCHA at 5-5-5 and at 7-7-5 overall.
With 32 seconds left in that overtime, John Ramage took a feed from Nic Kerdlies, timed it just right and slammed home the game-winner. That gave the Badgers their first overtime win in conference play in the last six years.
A goal with less than two minutes to go by Minnesota State kept Bucky from claiming the win in regulation. Other Wisconsin goals were scored by Joe Faust, Ryan Little and Jefferson Dahl.
Wisconsin will try to sweep Minnesota State for the first time in its program's history with a game starting at 7 p.m. tonight. The Wisconsin women's hockey team never trailed, but things were closed until a pair of late goals in a 4-1 win over Ohio State.
Senior forward Brianna Decker had a hand in three of the four Badger goals. She scored the game-winner on a short-handed breakaway about three minutes into the third period. That broke a 1-1 tie. Wisconsin outshot the Buckeyes and was 1-for-3 on power plays. Decker actually scored twice and added an assist on the first goal of the game by Madison Packer.Alev Kelter scored the other goal for the winners.
Wisconsin's record improves to 13-6-2, including 9-6-2 in the WCHA. The two team return to the ice in LaBahn Arena tonight with the puck dropping at 7 p.m.