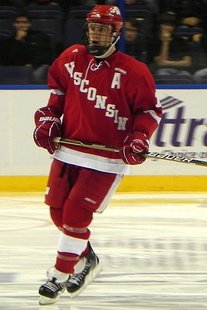 OMAHA, NEB (WSAU) A goal from Brendan Woods with 1:48 remaining gave him his first career game-winning score and his Wisconsin Badger men's hockey team a 4-3 decision over the University of Nebraska-Omaha. The Badger sophomore took a loose puck and slammed it in.
Four different players scored and eight earned a point in the victory. UW sophomore Joel Rumpel made 24 saves and got his ninth win of the season in goal.
The two teams wrap up the weekend series at CenturyLink Center in Omaha tonight at 7 p.m. The Wisconsin women's hockey team pounded St. Cloud State for five goals in a 5-0 shutout in Friday's first game of the WCHA playoffs at LaBahn Arena.
The Badgers have St. Cloud State's number, whipping the Huskies for the 15th straight time and scoring at least five goals for the fifth straight time.
Alex Rigsby earned her seventh shutout of the season and the 23rd of her career. Five Badgers scored a goal apiece as Wisconsin improved its record to 22-9-2 overall.
Wisconsin can wrap up the best-of-three first-round playoff series with a win tonight at 7 p.m.