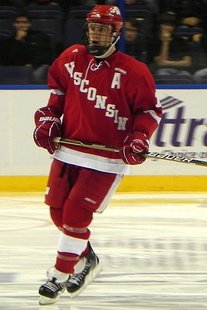 MADISON, WI (WSAU) The Wisconsin men's hockey team held on to a slim 2-1 edge entering the third period last night, but couldn't hold the lead. St. Cloud State scored three times while whipping the Badgers 4-2 in the next-to-the-last game of the regular season.
The loss mathematically eliminated Wisconsin from a chance at the WCHA championship. The Badgers can earn home ice for the first round of the conference playoffs if they get at least a tie tonight.
Joseph LaBate and Tyler Barnes scored Wisconsin's two goals. The two teams wrap up the weekend series tonight starting at 7 p.m. The Wisconsin women's hockey team made a run at North Dakota, but fell just short in a 2-1 loss in the WCHA Final Face-Off in Minneapolis last night.
Freshman Erika Sowchuk scored Wisconsin's only goal at 3:43 of the third period. That cut a 2-0 North Dakota lead in half, but the Badgers never scored the equalizer. North Dakota outshot Wisconsin 34-27.
The Badgers will find out what their participation might be in the NCAA tournament during the selection show starting at 5 p.m. tomorrow.